Polyurethane Screeds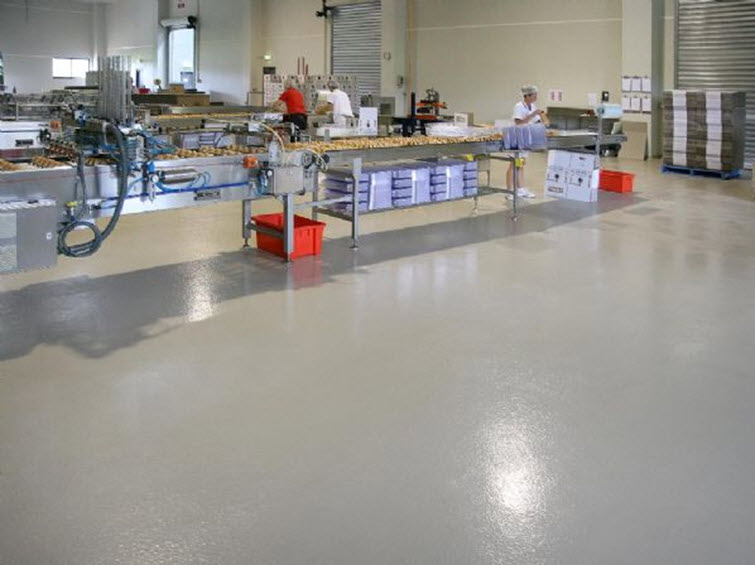 Polyurethane SCREEDS

These high duty polyurethane systems are specifically formulated for excellent chemical and temperature resistant and are widely used in food pharmaceuticals an chemical industries.
Polyurethane Screeds produce a range of resin rich moisture tolerant floor systems ideally suited to applications in the most aggressive industrial environments. They solvent free non tainting and fully serviceable at temperature up to 1200c depending on the specification and can be installed of 6mm, 9mm and 12mm depending on the environment conditions.
Polyurethane Screeds are resistant to fats and organic acids encountered in the food industry, however the excellent temperature resistant means the polyurethane floors greater than 6mm can be steamed clean. They will provide seamless and joint less floors, therefore reducing the potential for dangerous build up and meet with all EU regulations within the food industry environment.
They will provide a good slip resistant even in wet process areas and can provide a variety of surface profiles to suit individual requirements for the best compromise between slip resistant and ease of cleaning. Good footwear and appropriate cleaning reisheam are required to maintain a high level of slip resistance.
Areas of application
Food and beverage manufacturing
Commercial kitchens and bakeries,
Ready meals
Pharmaceutical production,
Pilot plants and clean rooms,
Aggressive industrial environments,
Wet process areas and bunded chemical stores.
Polyurethane Screeding Case Study
Project – Olympic Oils Ltd, Speke, Liverpool.
View images of this project
Olympic Oils is one of the leading independent suppliers of vegetable oils, sauces and other food products in the UK and European markets, supplying Caterers, Wholesalers and Food Manufacturers.
There were a number of areas within the factory that needed attention mainly due to the ingress of water to the floors used in washing down at the end of production. The work was carried out over a number of phases due to their production commitments. The client had an area of floor tiles in the mayonnaise production room that were cracked and broken up, water was getting under the tiles causing allsorts of issues.
The Sauce Production Room situated on the first floor had an existing Polyurethane screed that was becoming tired and broken up. The coving had come away from the wall and was no longer seamless, causing water to drip through to the floor below. Resin Floor Solutions were also instructed to remove the old drain channels in the centre of the floor and backfill them. We then extended the channel at the end of the production area and were asked to lay the screed to a fall down to the new drain.
Resin Floor Solutions were asked to install an Anti-slip Polyurethane Screed at a minimum 5mm thickness and form coving up the walls to provide a seamless finished floor. This would alleviate any previous problems of water penetration from washing down after the days production.
The floors were prepared by first of all de-greasing with a suitable agent. Then using a vacuum assisted diamond grinder the floor had all contaminants removed. The areas were then primed with an epoxy primer and blinded with quartz aggregate to form a key for the screed. The Polyurethane Screed was trowel applied at 6mm and laid to falls towards the channels. Coving was then created leaving a seamless, anti-slip floor system.
Our Services
Free advice & site survey
Demonstrations and test area's carried out if required
We guarantee you an experienced & professional installation
We ensure minimum disruption and down time
Our flooring systems Improve working environments,
Our flooring systems increase efficiency and productivity
We help you reduce maintenance costs and elimination of long term problems.
Technical Advice
Our technical advisory service is always available to deal with specific enquiries with advice on correct methods and techniques for the repair of industrial floors.
Each project is unique and whatever the situation Resin Floor Solutions has a system to suit your requirements.
Please contact us for a no-obligation free site survey or quotation
---
Resin Floor Solutions were extremely professional, covering all our questions and offering helpful advice. The flooring work was started on time and completed on budget and within the time scale. We would have no hesitation in recommending Resin Floor Solutions to anyone in the future

Darren Edmonds Epoxy Screed for Factory, Stafford